Nutrition and Chiropractic to Avoid Pain
Shared by Dr. Justin Thompson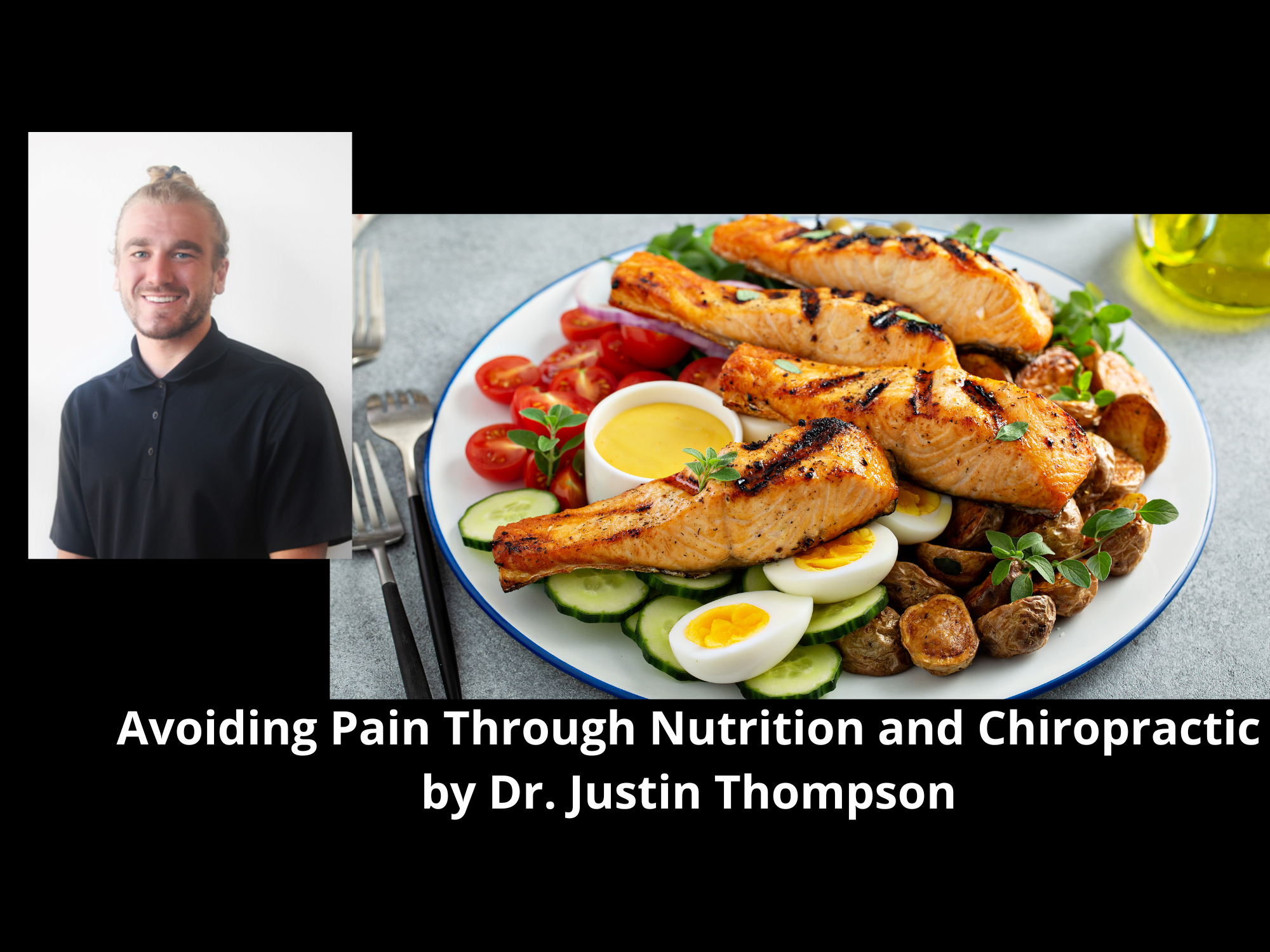 As a Chiropractor I'm always looking for ways to lower inflammation that causes pain, whether it's through nutrition, physical movement or managing stress. This salad of French origin is a Gordon Ramsey favorite. That is exactly where I learned of it for the first time. I absolutely love how fresh yet filling this salad is. In traditional niçoise salad, tuna is used. I prefer to swap it out with a smoked fish (trout or salmon). This simple twist adds a complex flavor. When looking for a smoked fish, try to find a 'hot-smoked' fish which makes the fish drier and flakier. This salad also packs a nutritional punch with a tasty combination of frisee, asparagus, and green beans serving as green highlights! Curly endives such as frisee are high in vitamin A, K, and some vitamin C. They also contain phosphorus, potassium, and dietary fiber.
Research
"Endive contains a powerful flavonoid called kaempferol. Preliminary, but promising studies have shown that kaempferol inhibits certain types of cancer, such as those found in the breast, brain, liver, colon, prostate, lung, pancreas, and more."
"Endive offers several crucial nutrients required for a healthy pregnancy. For example, its folate content helps reduce the risk of birth defects, including neural tube defects, congenital heart conditions, and preterm birth."
"Endive provides ample vitamin A and beta-carotene  (a precursor to vitamin A). Vitamin A plays various roles in eye health, from preventing macular degeneration to enhancing night vision."
"Endive is exceptionally high in potassium, fiber, and folate—three valuable nutrients for heart health. Potassium is a well-established blood pressure lowering agent. It counters the effects of high sodium in the blood with urination and helps release tension in the blood vessels."
Ingredients
6 packed cups frisee, washed, dried and torn into pieces (can sub mixed greens)
¾ lb potatoes cut into 1in chunks
Kosher salt
4 large eggs
¾ lb medium asparagus, trimmed
¼ lb green beans, trimmed
2 scallions, thinly sliced
1 ½ teaspoons grated lemon zest
3 tablespoons fresh lemon jice
Pinch of cayenne pepper
1/3 cup extra virgin olive oil
2 tablespoons harissa (add more if desired)
Freshly ground black pepper
8 radishes, quartered
8 oz sungold cherry, or other small tomatoes, halved
8 oz smoked salmon (can sub trout, mackeral, other fish)
¾ cup Nicoise, Gaeta, or greet olives, pitted
2 tablespoons capers, drained
Directions
Place potatoes in a medium saucepan, add water and 2 tablespoons salt and bring to boil. Reduce heat and boil gently until potatoes are tender. 10-20 minutes. Drain, transfer to a plate, and set aside.
Bring large saucepan of water to a boil. Gently lower eggs and cook at a gentle boil for 7 ½ minutes. Transfer eggs to ice water, let stand for 5 minutes, then drain and peels.
Add asparagus to boiling water and cook until crisp-tender, 4-5 minutes. Transfer asparagus to a bowl of ice water and let stand for 5 minutes then remove and pat dry. Add green beans to the boiling water and cook until crip-tender for 5 minutes, then drain, cool in ice water and pat dry.
Whisk together half of the scallions, lemon zest, juice, and salt, and cayenne in a bowl. Add olive oil and whisk well. Can adjust the salt and cayenne to taste.
Halve the potatoes and toss with the harissa and ¼ teaspoon salt.
Cut eggs in half
Arrange the remaining greens on a plate or shallow bowl. Sprinkle the remaining scallions and season with salt and pepper. Top with the potatoes, eggs, asparagus, green beans, radishes, tomatoes, salmon, olives, and capers. Drizzle with the dressing and serve.
Resources
Imran M, Salehi B, Sharifi-Rad J, et al. Kaempferol: A key emphasis to its anticancer potential. Molecules. 2019;24(12). doi:10.3390/molecules24122277
National Institutes of Health Office of Dietary Supplements. Vitamin A: Fact sheet for health professionals.
National Institutes of Health. Office of Dietary Supplements. Potassium: Fact sheet for health professionals.
Porowski, A. (2021). Antoni Let's Do Dinner . Houghton Mifflin Harcout .
The American College of Obstetricians and Gynecologists. FAQs: Nutrition during pregnancy.
Our Message
We love to help our patients in Dallas stay healthy. We are here to relieve back pain, neck pain and headaches while also teaching about how our diet and stress effects our over all health. Taking care of your mental health is just as important as the chiropractic adjustment and getting the proper nutrients to stay healthy. Our St. Louis Park Chiropractors located in the West End, near the corner of MN-100 S & Lake Rd./Westside Dr., want to help you stay healthy by through Nutrition and Chiropractic to Avoid Pain!